Kiera Cass
(
@kieracass
)
April 24th 2012 by
HarperTeen
Source: Publisher
For thirty-five girls, the Selection is the chance of a lifetime. The opportunity to escape the life laid out for them since birth. To be swept up in a world of glittering gowns and priceless jewels. To live in the palace and compete for the heart of the gorgeous Prince Maxon.

But for America Singer, being Selected is a nightmare. It means turning her back on her secret love with Aspen, who is a caste below her. Leaving her home to enter a fierce competition for a crown she doesn't want. Living in a palace that is constantly threatened by violent rebel attacks.

Then America meets Prince Maxon. Gradually, she starts to question all the plans she's made for herself- and realizes that the life she's always dreamed of may not compare to a future she never imagined.
I enjoyed this book so much I stayed up until 3 am reading it. Really.
The Selection
introduces readers to America Singer, our protagonist, living in a future dytopian setting. She has been selected by a lottery to travel to the royal palace and compete with other girls from different regions for Prince Maxon's hand in marriage. At the palace, she will have to deal with cattiness, backstabbers, and those girls who feel entitled just because they come from a higher class with in the caste system. Can America handle the girls who have been selected, Prince Maxon's quest to find a future queen for his country, the demands from her family back home, and figure out who/what she really wants to be?
What's good about being selected?
America's family receives compensation for her being away at the palace which they dearly need, because in this world's caste system they're not doing so well, and every little bit helps. The longer she stays in the competition, they more she will make for her family. Just by being chosen, America is elevated to a higher class with in the caste system. She is also able to leave heartbreak behind, and hopefully grow stronger personally, make new friends, and forge a new future for herself. The selection, for America, is an opportunity to speak her mind, and her voice is heard by the young prince. Could she possibly influence change for caste system and help the people?
What's bad about being selected?
For America, being selected causes her to rethink all she has thought about love and marriage. If she married who she loved back home, Aspen, she would lose respectability, and lower herself class-wise, but if she goes on with this competition, will she lose who she everything she stands for? Is there anyway to make everyone happy? Her mother wants her to have a better life, her father wants her to be happy, and Aspen wants to take care of her, but his lower caste hinders this. Will the selection help her with any of this?
So...
So, if reading about a poor girl "winning" a lottery, traveling to the royal palace, competing to marry the prince, all while braving the ins & outs and highs & lows of a future caste system that makes it hard to rise above your station, then
The Selection
could be the book for you. Cass writes America, Aspen, and Maxon so well you will feel connected to them. You will want America to succeed in her quest to make a better life for herself, which will be hard in this society.
The Selection
is book one in a series, which I was unaware of as I finished the book. So, when I got to the end of the book I experienced major anxiety over not knowing what was going to happen! Seriously! How could you do this to me, Kiera Cass? Hopefully, I'll be getting my fix in another way.
Lagniappe (a little something extra)
Did you know
The Selection
is already in the makings for a
CW TV series
? Well, it is! Let's take a look at who is going to be who!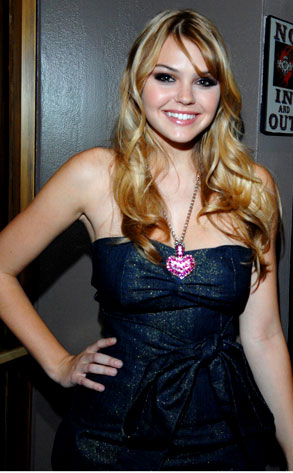 You may know her from Friday Night Lights (tv show) and Prom.
You may know him from The Chronicles of Narnia movies.
Giveaway Rules
*Please fill out the Rafflecopter form below to enter the giveaway.
*You must be 13 years of age or older.
*This contest is open to wherever the Book Depository ships, so check to make sure
your country
is listed.
*The winner will be announced on this blog post at the conclusion of the contest, be notified by email, and will have 48 hours to reply or a new winner will be chosen.
*Please do not put your email address in the comment section. Please do write a comment. :)
a Rafflecopter giveaway