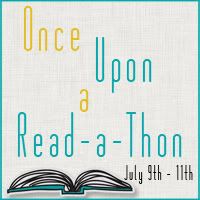 Today starts the Once Upon a Read-a-Thon! I'm at work most of Monday, Tuesday, and Wednesday, but when I'm off, I plan on reading! You can still
sign up
!
I'm hoping I get to read these four great book during this read-a-thon! :)
May 8th 2012 by HarperCollins Publishers
June 5th 2012 by Poppy
Black Heart
by Holly Black
April 3rd 2012 by Margaret K. McElderry
Pushing the Limits
by Katie McGarry
July 31st 2012 by Harlequin Teen
Monday's Challenges
IBBookBlogging
Question 1:
What is your favorite cover that has been revealed this summer and why? Post a link or picture of the cover if you want.
Question 2:
Do you rely on the cover to help you choose whether you want to read a book or not?

I totally believe book covers help draw readers in, but I don't rely on the cover alone when picking out a book to read. I look at the cover, the title, the author's name, read the flap, and then maybe the first couple of pages.